Prior Expedition, Fall 2011 Basa Village - Mera Peak
[Link to photo album: http://s1227.photobucket.com/albums/ee438/jrasley/?start=all]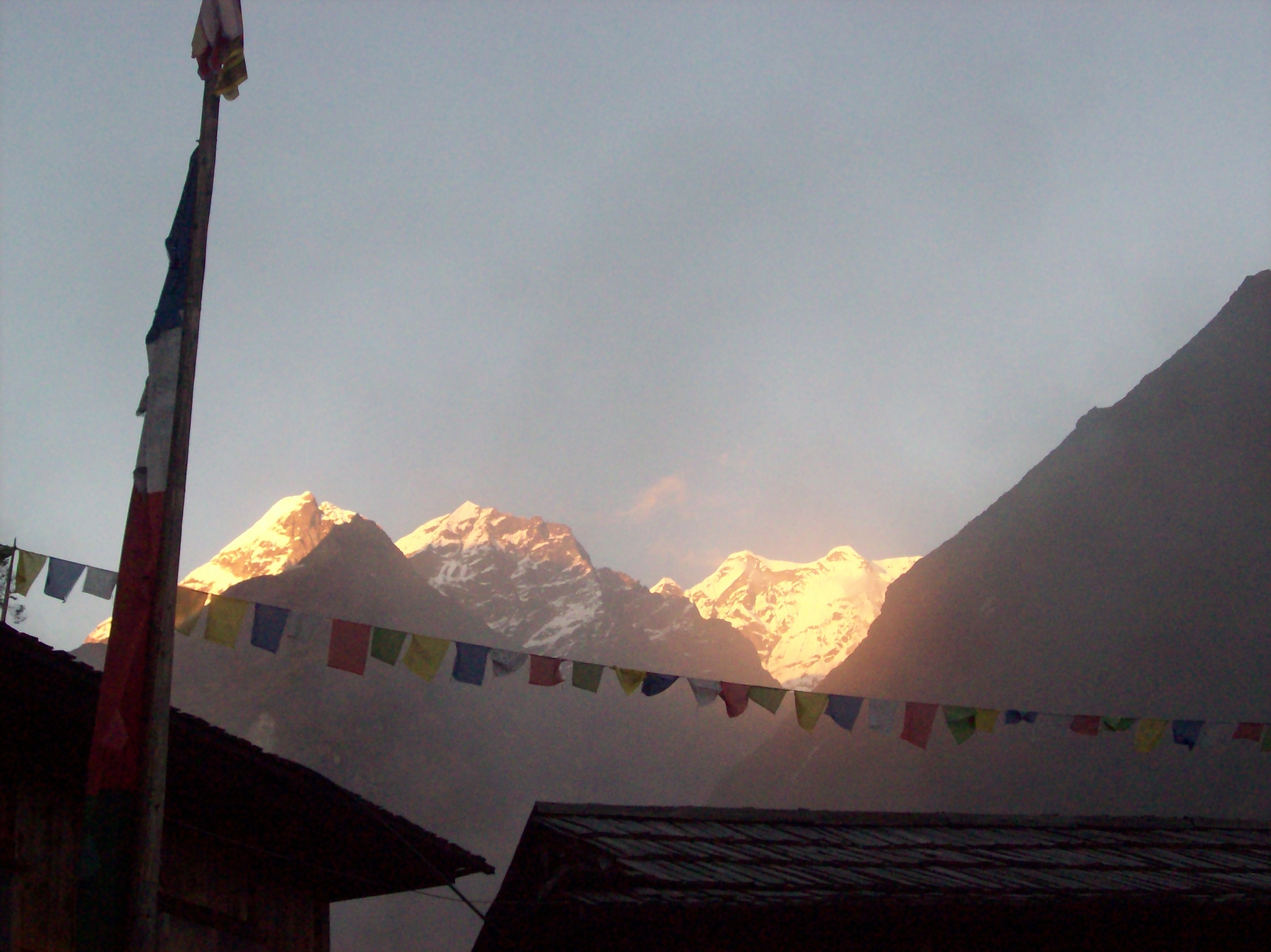 Our trek started under a bit of a cloud, because two members had to drop out before we left for Katmandu and a third took ill in Katmandu and returned home. It ended under a cloud on Mera Peak as bad weather prevented our team (and all others) from even trying to make a summit attempt. However, the trek to Basa Village and then to Mera Peak was glorious. And our two days in Basa Village was a wonderfully warm, intimate and communal experience.
We flew out of Katmandu in a Twin Otter and landed at the Phaplu airstrip. That afternoon we hiked up the 10,200 foot high Ratnagi Danda and camped on the top of the ridge. In the morning we hiked down the Danda and were met outside of Basa Village by the village musicians. The entire village awaited our approach and each of our eight members were covered in flower garlands as we passed under the Welcome sign beside the village school.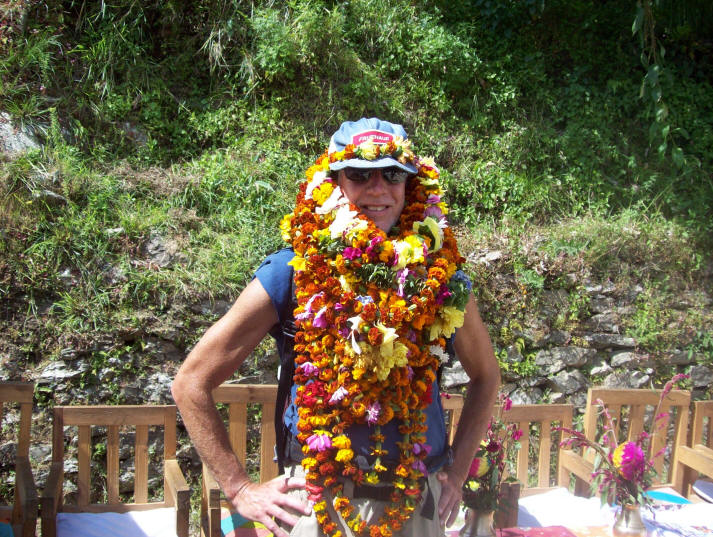 Mike Miller, Joel Meyers and I hiked with villagers over to the Mauri Khola (river) to inspect the hydroelectric power station, which Mike and I had helped to start the year before. We were impressed with the workmanship of the villagers in the construction and the operational care taken in running the system by Prakesh Rai.
Chris and Jeanne Taylor spent an afternoon instructing the school's faculty and five hand-picked students in basic computer skills on the five laptop computers Chris' employer, Nimbus, donated to the Basa Village Foundation. One of the teacher's, Assam Rai, will take the lead in teaching students how to use the laptops. Chris and Jeanne plan to return in April 2012 to provide advanced instruction.
All members of our group visited homes throughout the village and were shown the smokeless stoves provided by donations through the First Friends Basa Project. The villagers were especially proud of their own work in assembling the stoves and building chimneys into their homes. We were treated to different dishes, specially prepared for us, including giant cucumber, roti pretzels, potatoes, chang (beer) and rakshi (spirits).
Before we were allowed to leave the village we were treated to dance programs by the school children and the expert dancing of loose-limbed Sagar and the beautiful Laxmi. Older members of the community performed a traditional "earth dance", which was led by Rudra Rai flourishing a yak tail. Before we left members of our group delivered school supplies and over 20 pairs of children's shoes donated by Changing Footprinst of Indianapolis. On our way out of the village we were again covered with flowers and led up the trail by the village musicians.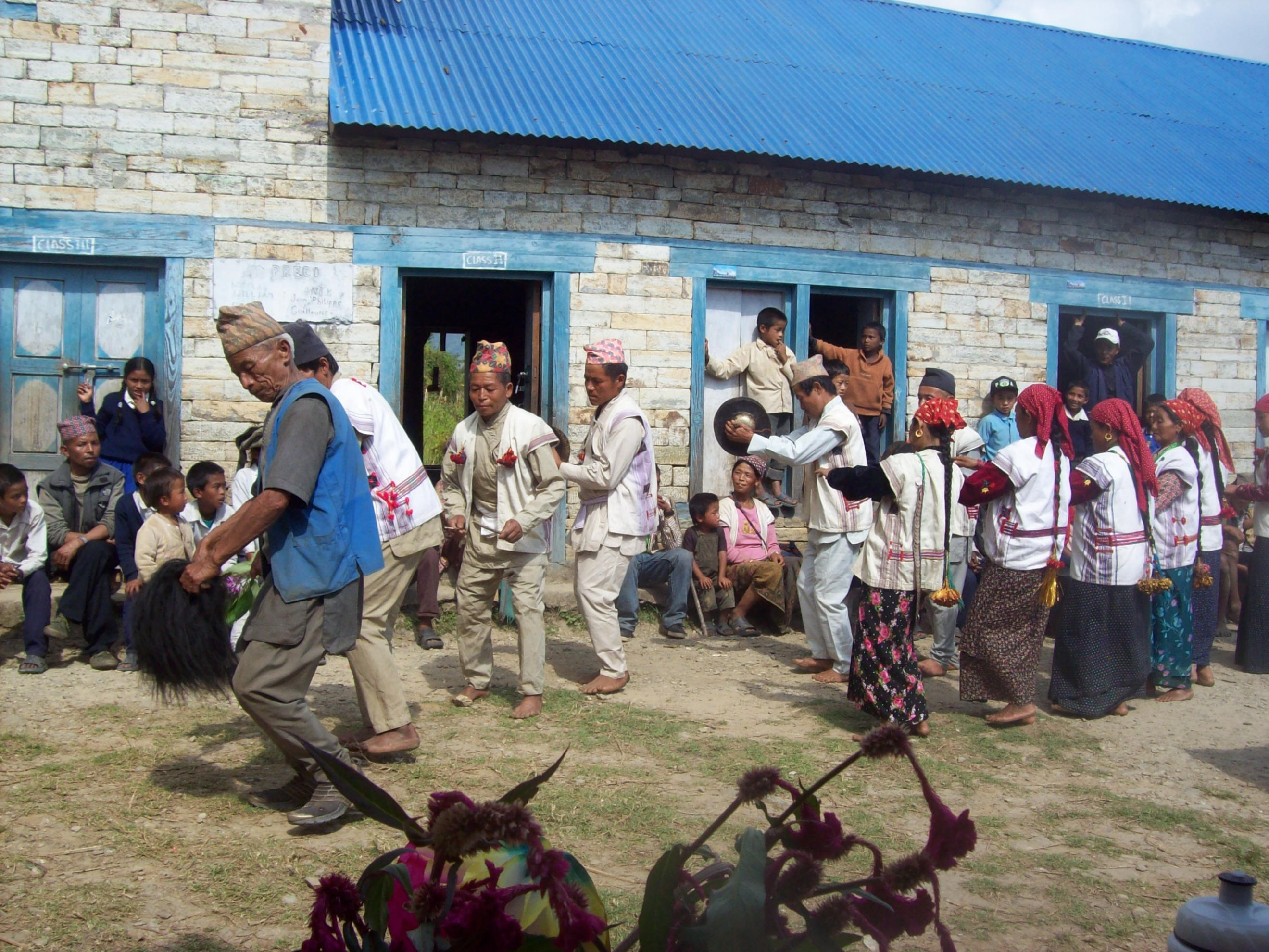 The rest of the trek had spectacular moments of beauty, but we all agreed that the most meaningful experience was Basa Village. We were left, however, with a nagging concern for the village, because a road is approaching Basa. It is being clawed out of the rain forest up the Ratnagi Danda and may reach Basa in a couple years. Our sirdar (head guide), Dibi Rai, told us that most of the villagers are opposed to the road. They fear it will bring "pollution and unhealthy food to the village."
On the way to Adheri we stopped at our Cook, Purna Rai's, house and enjoyed fresh green beans around his family fire pit. Our hiking days then became more difficult as we trekked down to, and over, the roaring Dudh Khosi (river), which is fed by the Khumbu Icefall running of Mt. Everest. A wet night at Lenji Kharka, near Pangma Gompa, brought out blood-sucking leeches, which harassed us in the meal tent and even in our sleeping tents. Nasty little creepers!
We spent a night camped by a huge cave, Odare, in which the tough Basa guys of our Adventure GeoTreks staff slept over night. Climbing up above the cave we found a little bamboo tree stand covered in moss sprinkled with exquisite little blue flowers. Two days later we arrived in Kote, the gateway to the Mera Peak Park, at 12,000 feet. Dennis, Ursula and I were suffering head colds and coughing. Various meds were considered and antibiotics taken. The next day was a long walk to Thang Nag across a huge moraine. In 1997 there was an avalanche which burst a mountain lake and wiped out the village, but it is thriving again on higher ground.
By the time we arrived in Khare, Mera Peak base camp, Mike and Chris were also manifesting symptoms of altitude sickness. We took a rest day hoping that we would all recover before attempting to climb Mera Peak. The following day we practiced mountaineering skills on a hill to show climbing guide Dendi Sherpa that we knew how to tie on and use ice axes and crampons. Mike decided he wasn't up for the trek out to Lukla and luckily a helicopter had been arranged for an injured climber, so Mike choppered out. At age 72 he had earned the right to fly out from 16,200 feet Khare rather than taking the long and dangerous hike out to Lukla. Karlin, Urse, Joel, Chris and Jeanne tried to climb up to high camp on Mera, but were blown off the mountain along with all the other climbing groups by blizzard conditions. Many of the porters and kitchen staff who had been sent up to high camp were not properly clothed, and members of our group gave up gloves and trekking poles to help less fortunate Nepalese guys off the mountain.
I was stuck in base camp suffering from altitude sickness. But I did enjoy hanging out with a Kurdish-Iranian climbing team in a rough batti (tea house) talking international politics beside a yak-dung burning stove (between headaches). The following day Dennis felt strong enough to give the mountain a go, but Joel had experienced the excruciating headaches of first stage AMS, and so he and I were compelled to trek back down to Kote to try to recover from altitude sickness. Unfortunately, the bad weather rolled in again just as our team reached the big glacier, and all climbers were again forced off the mountain. We were all reunited again in Kote the following day.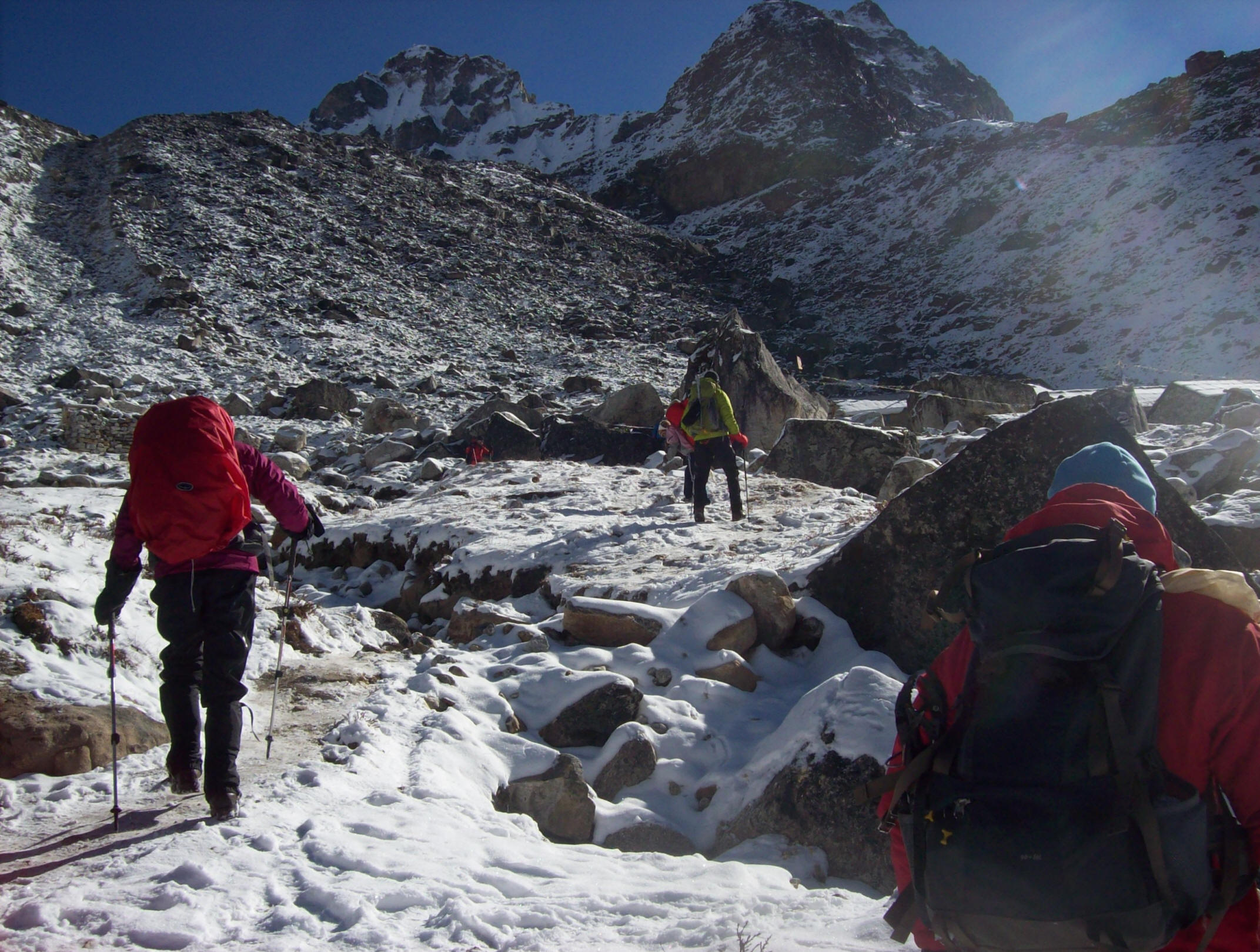 One of our toughest challenges was yet to be faced. The Zatrwa La is a double pass -- two passes at 15,000 feet one after the other. This is where I saw three porters die in an avalanche in 1999, so it was a rather emotional experience for me to return. But the intensity of the current moment pushed those memories into the background. The steep mountainsides were covered with snow and ice. It was amazing how porters with 60 to 80 pound loads managed to climb down each of these slippery, rocky cliffs in cheap Chinese-made sneakers. It was a hell of a challenge in expensive boots and using trekking poles or ice axes.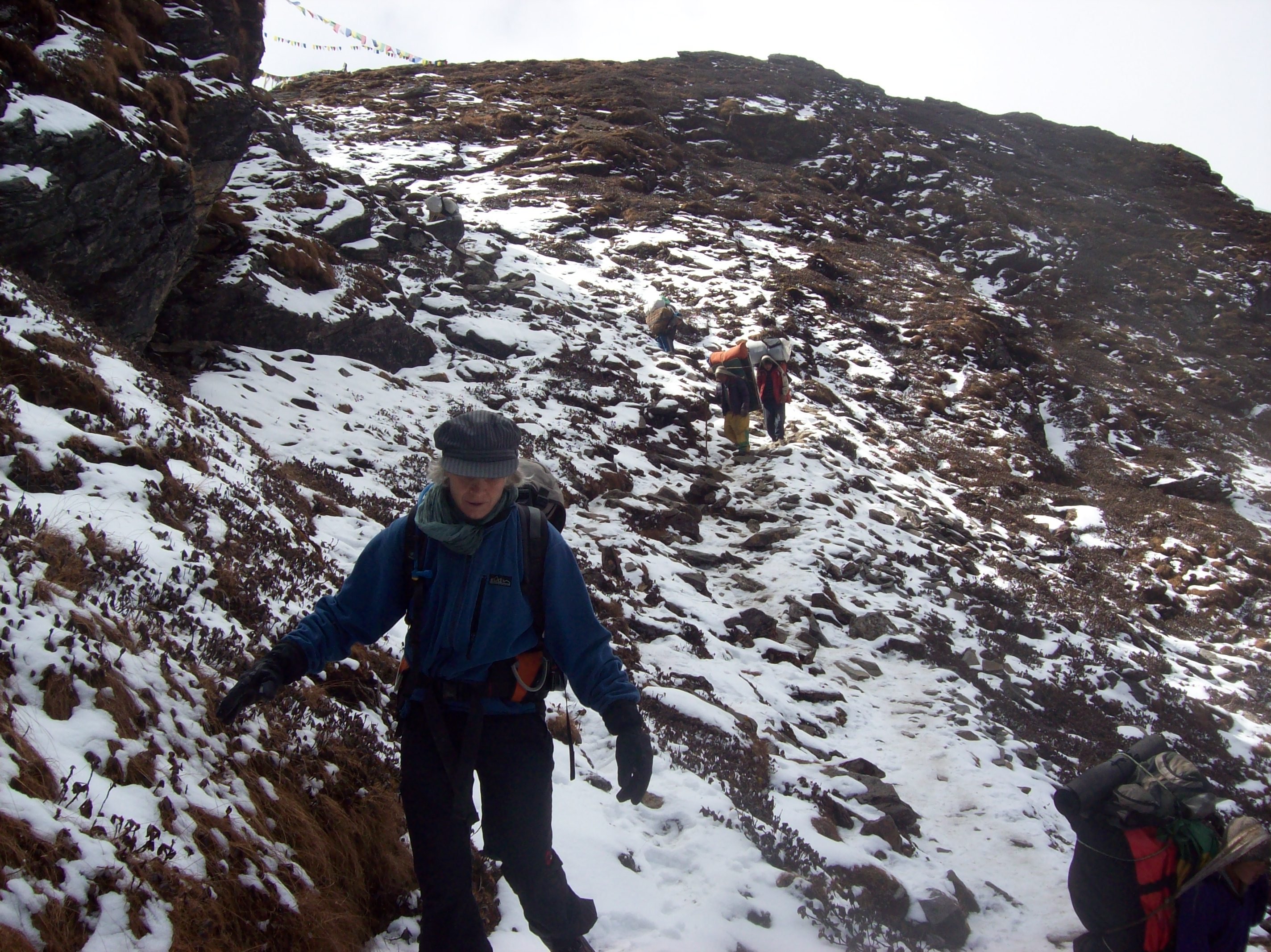 All members of our staff and clients made it safely down both passes of the Zatwra La and then across multiple rivers and streams to Lukla. There we had a day off to enjoy the local market and to gawk at trekking groups flying in to commence their treks up the Base Camp trail. They all looked so clean and peppy, we thought. We had to say good-bye in Lukla to our excellent guides, Dibi, Buddi and Subash, as well as Purna and the rest of our incredilby strong staff. A few of the guys would (literally) run home to Basa for Dipwali festivities, but most were meeting another group of adventurers for more trekking and climbing in the Khumbu. Our last night together was a rollicking affair with singing and dancing at a lodge. The staff were happy with the tips and gifts we gave them, and we were filled with affection and admiration for the guys that carried our heavy loads, set up camp every day and cooked great meals for us on mountainsides and rain forests.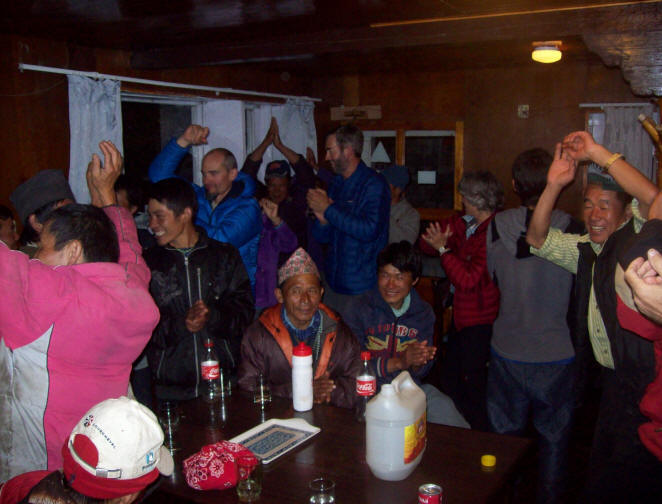 Our group did, however, experience a very distressing event on the hike from base camp to Kote. A porter with another group died on the side of the trail, apparently due to cerebral edema. He had been sick at high camp, drank alcohol back in base camp and then had a seizure on the hike out of Khare. Karlin and Ursula, along with other climbers, tried to provide aid in vain. In my two expeditions to Mera a total of four porters from other groups died. I had made a commitment previously not to engage in climbing expeditions that put high altitude porters at risk. I broke that commitment in this return to Mera Peak. Never again! Climbing expeditions should not send porters to high camps, unless those porters have exactly the same gear and protective clothing as the climbers. Better yet, real climbers carry their own gear up the mountain. Let the porters have a break in base camp.
Back in Katmandu we had time for a little shopping before being hosted at Adventure GeoTreks HQ by Niru's family. Purna's cooking on the trek was impressive considering the conditions. But the feast at Niru's was fabulous. It was a good start on gaining the weight back most of lost from hard trekking (and sickness).
Even in Lukla: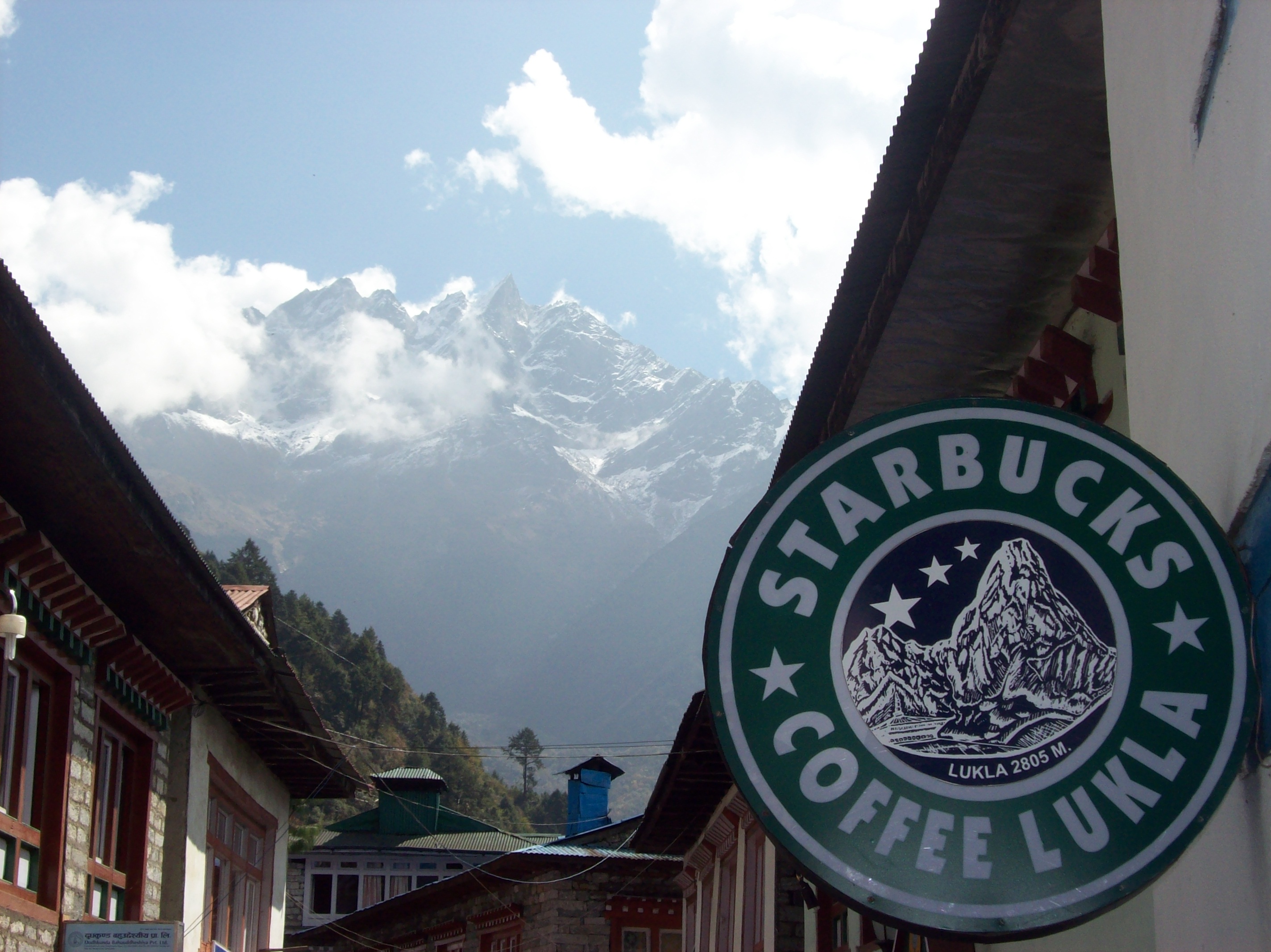 Before we left Katmandu: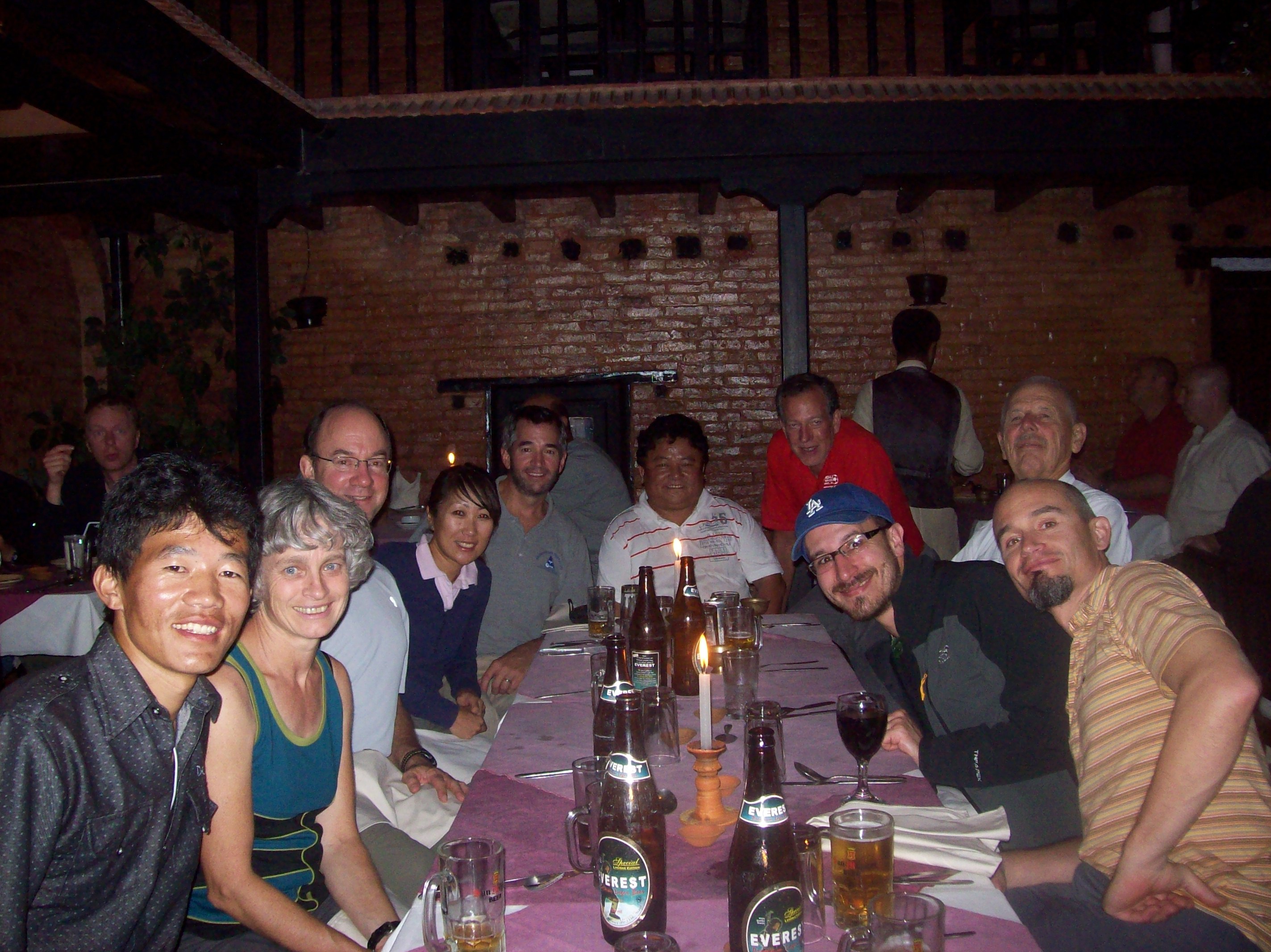 In the meal tent: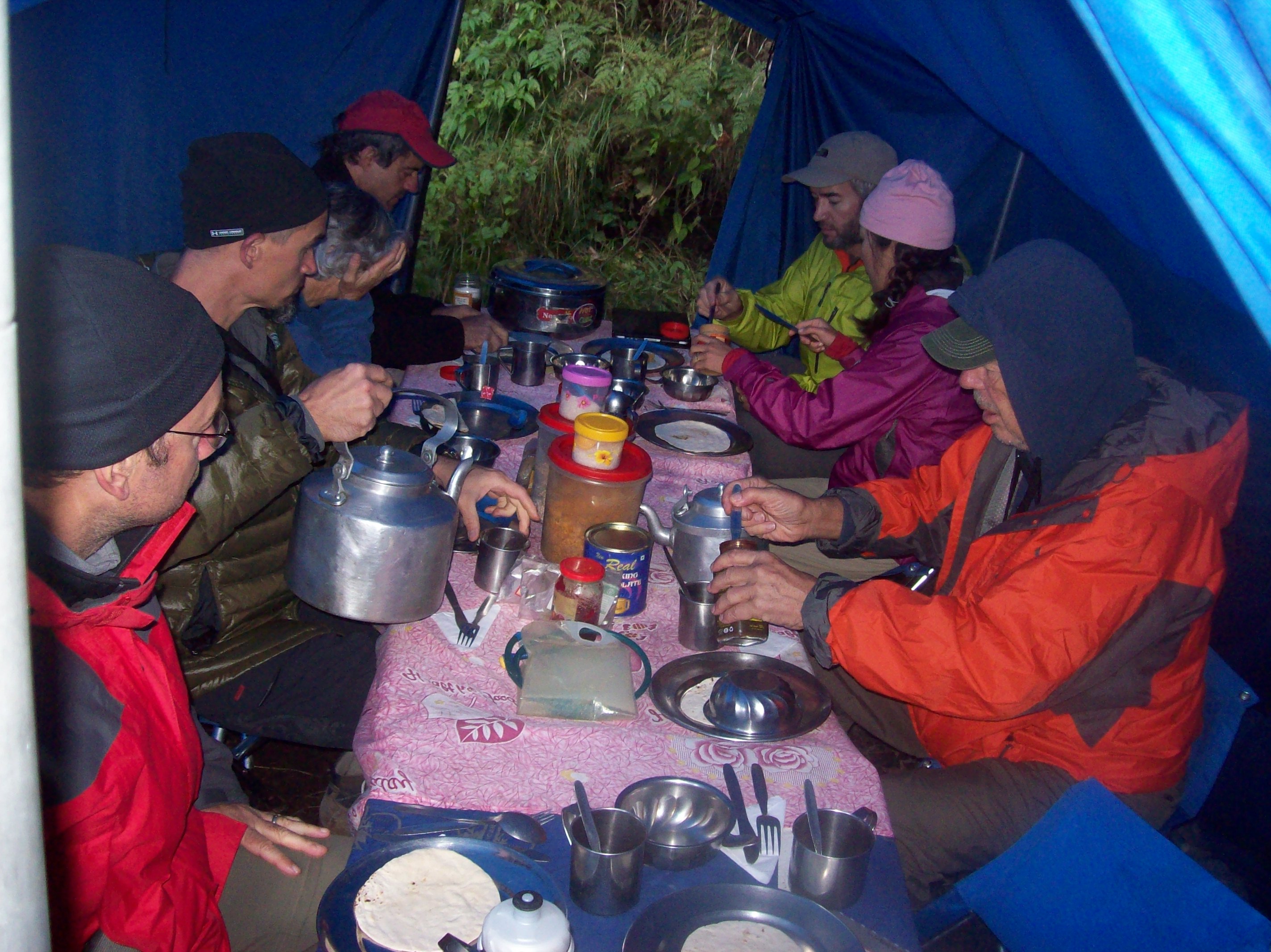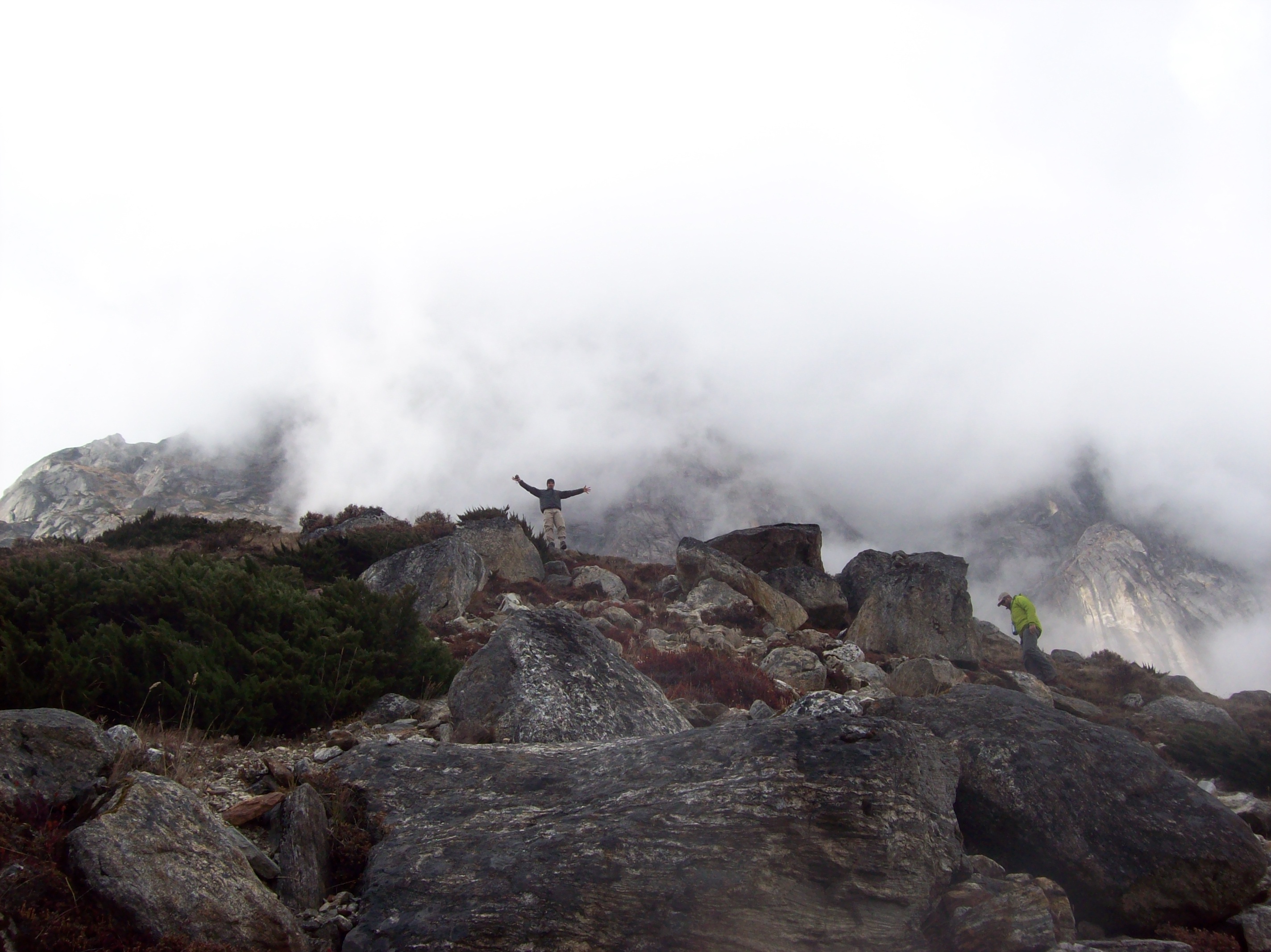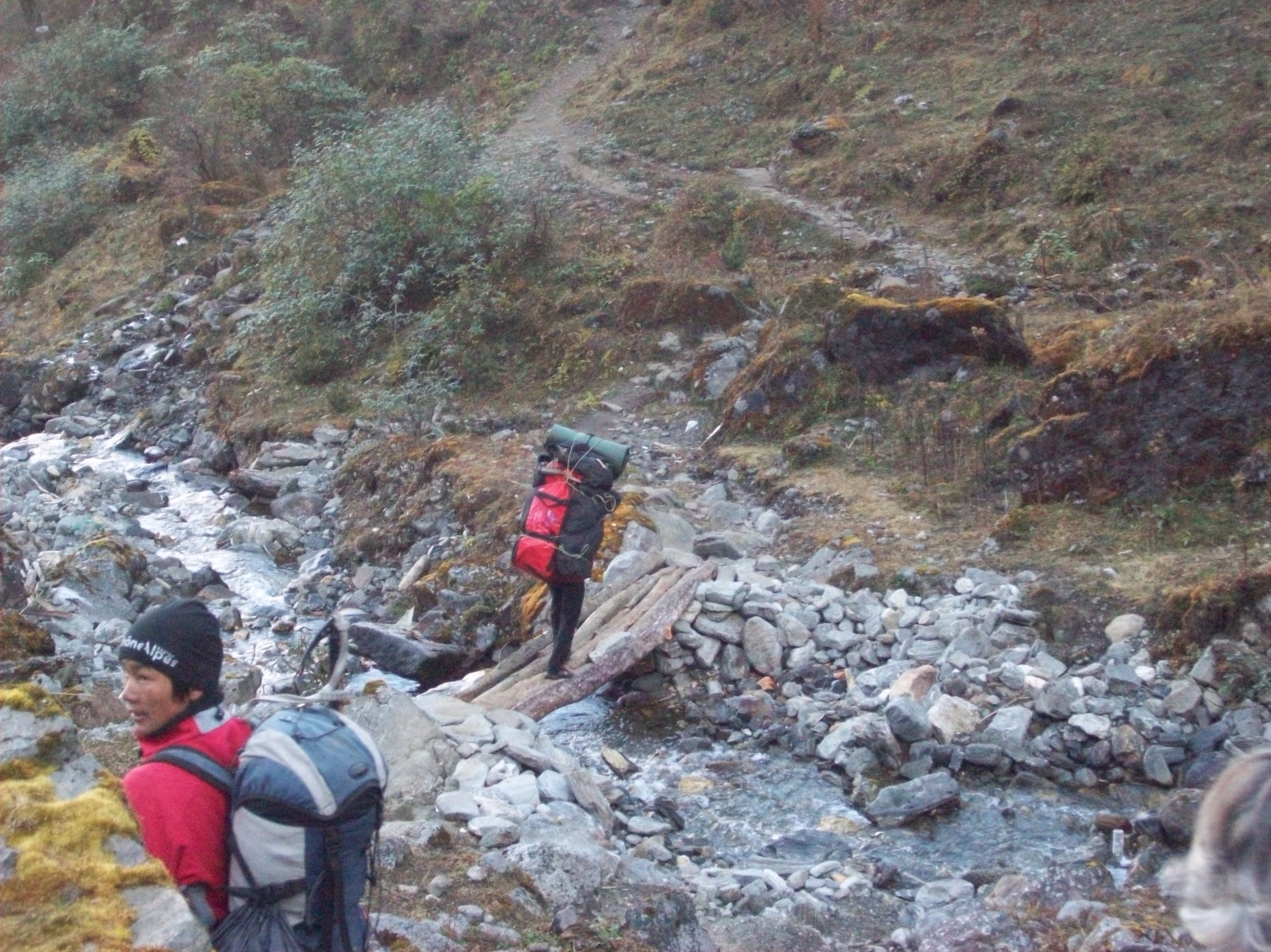 [Link to photo album: http://s1227.photobucket.com/albums/ee438/jrasley/?start=all]